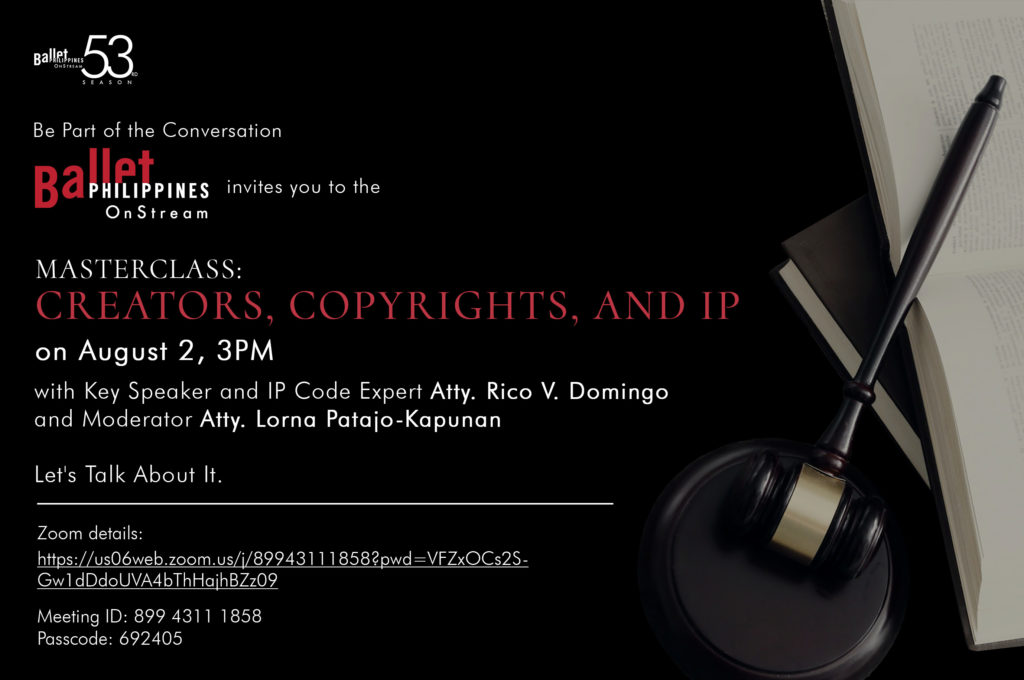 As we now enter a new era of hybrid training and learning, BALLET PHILIPPINES is once again engaging the creative community with an exciting Masterclass designed to shed light on Philippine Copyrights and Intellectual Property.
We at BALLET PHILIPPINES invite you and your organization to join a BP OnStream MASTERCLASS: Creators, Copyrights, and IP with Atty. Lorna Patajo-Kapunan and Atty. Rico Domingo.
The Masterclass will take place via Zoom on August 2, 3PM. It may also be viewed through BALLET PHILIPPINES' Facebook page, https://www.facebook.com/balletphilippines
During this MASTERCLASS, audiences will:
Learn about Philippine Laws on Copyrights and IP–its parameters, definitions, and scope.
Discover how Copyrights and IP can help protect and guide creatives as they navigate their careers.
Know and understand the dynamics between creators, companies, and other businesses where Copyrights are concerned
We shall be delighted to welcome you to this special session where experts of the legal community and IP can help guide you through your creative pursuits and careers.
Register for this FREE Masterclass, here: